Will you be at RE+ 2023? You need to stop by booth #5765
Paige Renewable Energy is excited to once again be showcasing our top tier wire and cable solutions at this year's RE+ in Las Vegas. For clean energy professionals, this event is one of the biggest and best of the year – and that means we'll have a booth that's bigger and better than ever. (More swag and hosted happy hours, too. More on that below.)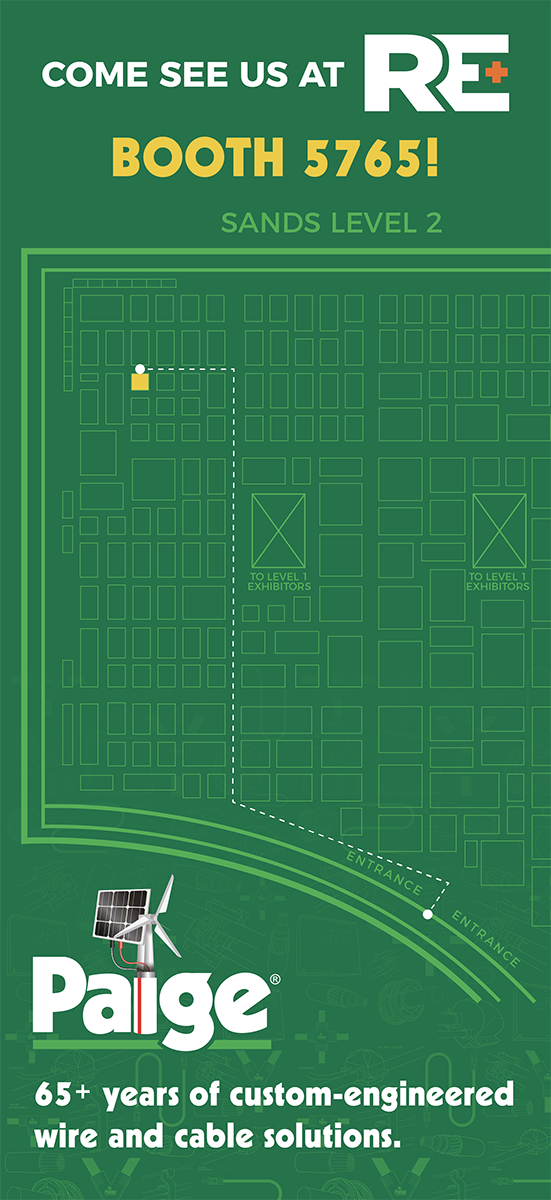 Like any good Vegas magician, we don't want to reveal all the tricks we have up our sleeves, but we can let you in on the inside scoop.
Some of the show-stopping products we're featuring include:
Paige's Insulation Piercing Connector (IPC): A faster, easier to install, and more reliable method of connection. Say goodbye to sticky gels and hello to a field-tested, UL-listed IPC that's field modifiable to fit changing site conditions.
Our UL-9703 Certified Custom Wire Harness System is designed to meet the needs of your project with T, X, and Y overmolds. Our fully customizable system supports most connector and fuse brands, and we provide pre-fabrication for a quick and easy install.
Bulk cable, including 35KV MV-105 and Aluminum and Copper 2kV PV Wire, which is always in stock. We'll have a list on hand of our available inventory selection – over $20M in stock!
Come to Booth #5765 to meet our team and find out how we can exceed your highest expectations.
Not only will we have our seasoned veterans, we're also proud to welcome some new engineers and customer support specialists from our Raleigh, NC office. Ask us anything you want to know about our products or how we stand out from other providers. If you want to have this conversation over drinks, we're hosting a happy hour Tuesday and Wednesday evening from 4-6 p.m.
And you didn't think that products were the only thing we were offering, did you?
Just like last year, we'll be fully stocked with amazing giveaway items. From socks and pens to lanterns and Yeti water bottles, we've got the goods in addition to great people and service.
We can't wait to see you!
Mason Phillips has been in the renewable energy industry for over 15 years, serving various roles including Project Manager and Director of Construction where he oversaw installation of over 100mw throughout the nation. In his current role, leading sales for Paige Renewable Energy, Mason travels throughout North America consulting customers and ensuring Paige's renewables operation is running smoothly.
Mason Phillips
National Sales Manager